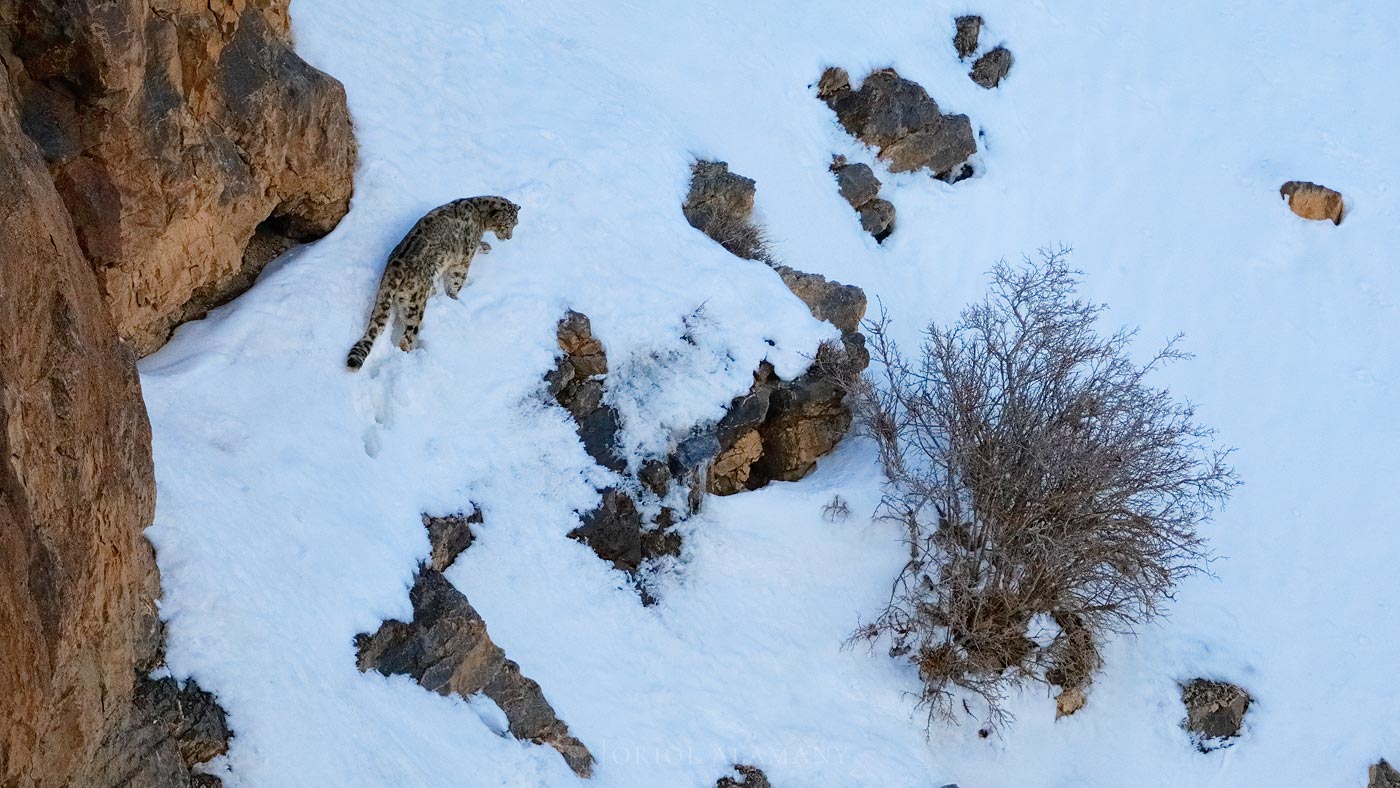 —Lecture "In the footsteps of the Snow Leopard"
Snow leopards live a solitary life at elevations of 3,000 to 4,500 meters in some mountains of Central Asia, playing a key role as a predator. A feline not studied until recently, the exact total number is unknown, which is estimated at around 4,000 to 6,600 individuals, of which between 220 and 450 are illegally killed every year.
Although the favorite prey of snow leopards are blue sheep, tibetan ibexes and other wild herbivores, they sometimes attack domestic livestock, inciting shepherds to hunt them illegally. Now conservation NGOs, governments and villagers have coordinated to protect the habitat, its prey and, therefore, the snow leopards through innovative methods.
After several trips to the Himalayas, these last two winters Eulàlia and I have focused on obtaining images of this elusive feline in a remote place of the border of India with Tibet, an area of ​​restricted access to foreigners.
This presentation will be about the snow leopard, our quest, the history of its knowledge, and also its natural environment, the animals with which it shares it, and the farmers with whom it sometimes enters into conflict but who now, in some places, they take care of and protect him. All this through our own experience in this mountain range.

The current agenda of lectures is:
– (In preparation, interested organizations contact us).
–5 March 2020: Mostra de cinema de muntanya de Palma (Palma de Mallorca).
-5 October 2019: MontPhoto Festival, Lloret.
-22 May 2019: FONAMAD, B The Travel Brand, Madrid.
-23 September 2018: Delta Birding Festival  (Delta de l'Ebre Natural Park, Tarragona).
-6 December 2018: AEFONA Congress (L'Hospitalet de l'Infant, Tarragona).
-26 January 2019: at CINCLUS FESTIVAL (Vouzela, Portugal).
-7 May 2019: Societat Catalana de Fotògrafs de Natura  (Institut d'Estudis Catalans, Barcelona).
A LECTURE BY
Oriol Alamany